There are eight Fridays between now and hockey being played in Condorstown when San Jose comes in for some preseason action on Oct. 7. That's four pay days away. Better get the golf in now while we can.
That means we're closer to my favorite question that always kicks off every season … "hey Holty, how was your summer?" So I figured we'd kick off the blog with a look at what some of the guys have been up to lately, because, after all, it's my blog and I'll do what I want.
Now for the blog…
Vinny Desharnais participated in the Leucan Challenge back home in Quebec to benefit childhood cancer research and treatment. The fundraising and event raised over $54,000. And the big guy's locks are now gone. He's still young, it'll grow back. At least that's what I said to myself. Nice work Vin!
How it started How it's going

Big Vin wanted to thank everyone who helped support the Leucan Shaved Head Challenge helping raise over $54,000!@desharn13 | #Condorstown pic.twitter.com/eXxiOeueEA

— Bakersfield Condors (@Condors) August 7, 2022
Philip Broberg is back home in Sweden putting in the work for what should be a big year for him. He had a very good year last year and stayed consistent despite a shuttle run back and forth between here and Edmonton at times.
View this post on Instagram
Dmitri Samorukov was in the Dominican Republic catching fish. Much like myself, SPF is your friend when it comes to summer activities and knowing that you're not tougher than the sun. Looking for a healthy season for him, because when he was able to play consistently, he was one of the top d-men in the division and will push for a spot in Edmonton.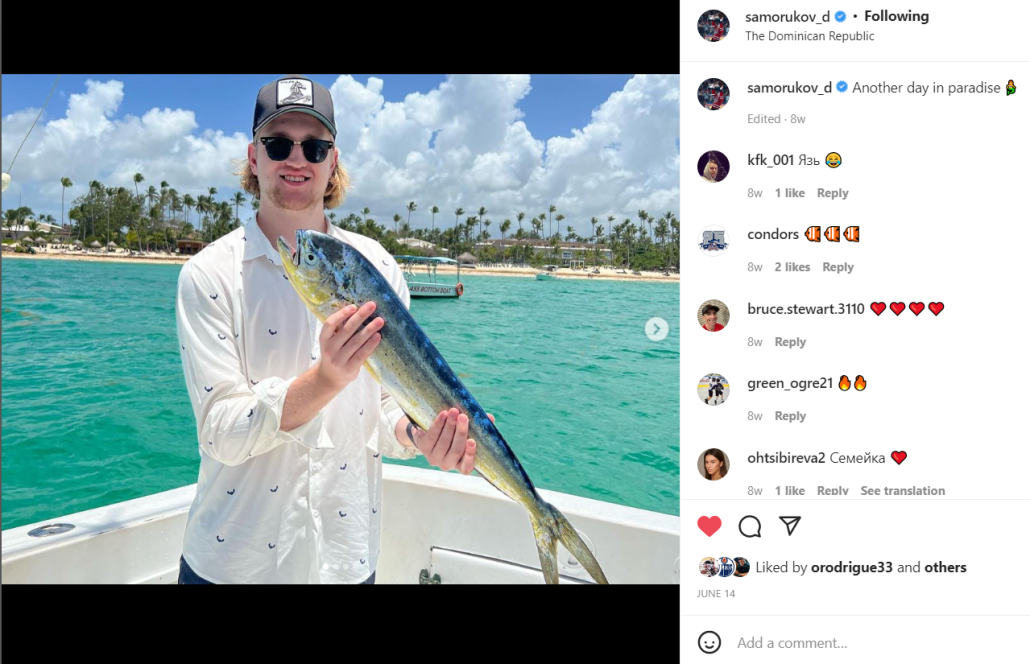 Tyler Benson signed a new one-year, two-way contract with the Oilers. He currently ranks third on the Condors AHL scoring list. Which reminds me, I should update the media guide before the season starts.
The #Oilers have signed Tyler Benson to a one-year, two-way contract extension with an AAV of $750,000. The forward played 29 @NHL games last season, scoring his first-career goal on Feb. 20 vs. Minnesota.@TylerBenson_17 | #LetsGoOilers pic.twitter.com/RPizgFEMmD

— Edmonton Oilers (@EdmontonOilers) August 6, 2022
The Condors signed five players to AHL contracts Tuesday, with Graham McPhee the only returner. Three of the others spent time in Fort Wayne recently. Certainly the signings give the Condors roster depth, while also bolstering the Komets. As we know from our ECHL days, it is beneficial salary cap wise to have players on AHL deals.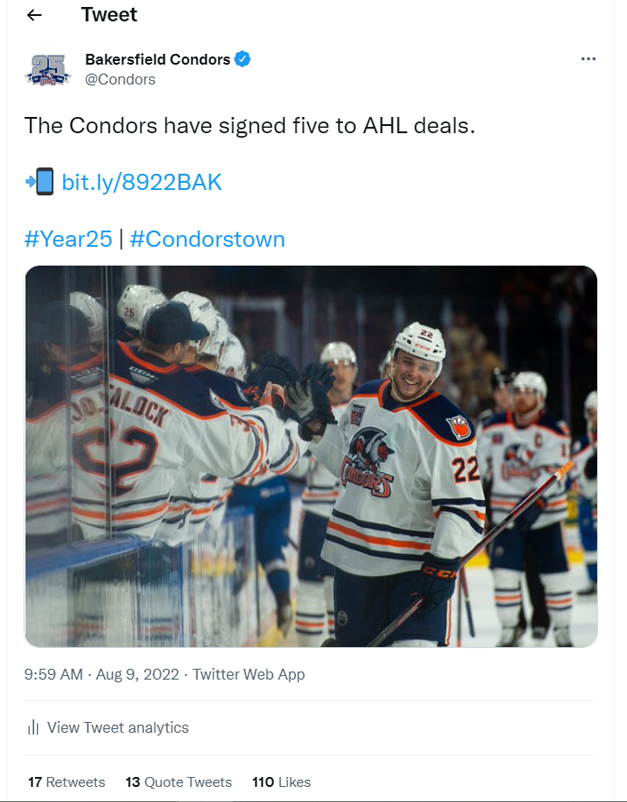 Until next time Condorstown…
Ryan Holt aka Holty is the Voice of the Condors, entering his 12th season. The higher the SPF, the better the time. Follow him on Twitter @CondorsHolty for more nonsense or shoot him an e-mail to RHolt@BakersfieldCondors.com with questions, comments, or blog ideas.