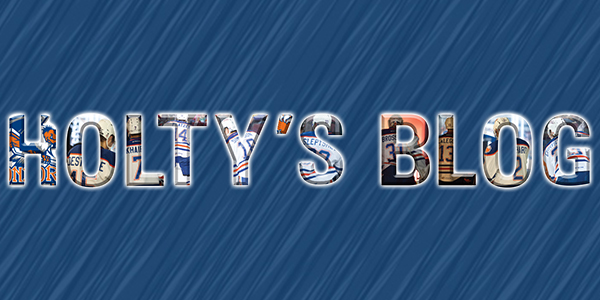 HOLTY'S BLOG: Happy Thanksgiving
Happy Thanksgiving everyone. I just polished off a breakfast burrito the size of my head from Tacos La Villa (shout out to them for being open this morning!) and I'm ready to write the blog.
You may not enjoy breakfast burritos on Thanksgiving, and that's wrong, but as I'll remind you it's my breakfast burrito and I'll do what I want.
Now for the blog…
– D Ryan Stanton is on his way to San Diego and will be available tomorrow night. As will Jamie Doornbosch who was signed to a PTO today. That gives the Condors seven healthy d-men for the weekend.
– C Brad Malone is also back from Edmonton so he's available for the weekend. When he left he was the team's leading scorer.
– As we talked about on the broadcast D Mark Fayne has been skating with the team, but Gerry Fleming noted he's not expected back this weekend.
– In talking with the coaching staff and watching video, D Caleb Jones had his best game on Wednesday. Not only did he score, but he was +4 in scoring chances which is a great number for an offensive d-man.
WATCH: @Jones4Caleb stakes the @Condors to an early lead with his first in the pros. #Condors20 pic.twitter.com/gMVStDBh6A

— Bakersfield Condors (@Condors) November 22, 2017
– Will the goals come Holty? Man I hope so. 74 shots the last two nights and just three even strength goals. Normally, I'm not a huge believer in shot totals, but the Condors had 17 A scoring chances on Wednesday. That should translate to 4-5 goals, but just has not early on this season.
– There is a ton going on for Saturday's Teddy Bear Toss. But, at 5:45 p.m. Condors365 members are invited to the Bank Room for basically an extended pre-game show with myself and other guests. Ask questions, vent, and get some insight. Looking forward to it.
– After we collect all the bears on Saturday, you can watch the Teddy Bear Count live on Fox 58 from 7-9 a.m. on Monday morning. We'll have the goal scorer with us to help with the count and it's always a highlight of the year.
– Jujhar Khaira and Jesse Puljujarvi each had goals in the Oilers 6-2 win over Detroit last night. Hopefully, it's a win that can get the club going.
Jesse 💣 #LetsGoOilers pic.twitter.com/9PdJF1Kyrg

— Edmonton Oilers (@EdmontonOilers) November 23, 2017
– Tonight, we'll have a Thanksgiving meal as a team in the hotel down in San Diego before tomorrow's game against the Gulls. Can't believe it's Thanksgiving for one, and just the first time we'll see San Diego this season. Puck drops at 7 p.m.
– LOCK OF THE DAY? A Thanksgiving teaser for you. I was 4/5 on my locks last Sunday, so laissez les bons temps rouler. Minnesota (-1), Dallas (PK), and Washington -7.
Have a safe and happy Thanksgiving Condorstown. Until next time.
Ryan Holt aka Holty is in his seventh year in Condorstown. He enjoys stuffing the most. Follow him on Twitter @CondorsHolty for more nonsense or shoot him an e-mail to RHolt@bakersfieldCondors.com with questions, comments, or blog ideas.
https://www.bakersfieldcondors.com/wp-content/uploads/2017/08/HB_Small-.jpg
300
600
condors
https://www.bakersfieldcondors.com/wp-content/uploads/2023/06/BAK-Website-Header_2324.png
condors
2017-11-23 09:50:00
2017-11-23 09:51:29
HOLTY'S BLOG: Happy Thanksgiving