Everyone hit the gym this morning? Right.
I'd like to start the blog with a controversial take. Turkey is awful. Why do we subject ourselves to this every year? White meat, dark meat, wings, drumsticks … it doesn't matter. I'd like to petition to change Thanksgiving to Ribeye Thursday.
That said, hope everyone had as good a day as I did yesterday. We have business at hand with Teddy Bear Toss tomorrow and a huge crowd expected.
You may still be in a food coma, but keep reading on! And as I'll remind you, it's my blog and I'll do what I want.
Now for the blog…
Edmonton flip flopped Philip Broberg and Markus Niemelainen this morning. Broberg had four points in seven games and was impactful at both ends of the ice. He is an effortless skater and one-man breakout. Niemelainen played 15 games with Edmonton and with Desharnais still on the shelf for a bit, he can provide a physical element to the Condors blue line. I wonder if this move also opens up power play time for leading goal scorer Michael Kesselring?
How about Kesselring? He leads the Condors with seven goals after tying the game on Tuesday with a bomb from the point. The goal also moved him into a tie for the league lead among d-men.
I love the Behind Closed Dors video series, because it gives you a little look behind the curtain. It's a fun group, embodied in the post-game Cowboy Hat handoff speeches. In Tuesday's you hear Luke Esposito mention "enjoy the two days off." Originally, the team only had Thursday off. But, the coaching staff decided to throw out the nugget of an extra day off on Wednesday for a win over Henderson. I know the training staff appreciated that.

Teddy Bear Toss is tomorrow night. It'll be the biggest crowd in Condorstown since March 2020 and a night filled with anticipation and excitement. Who do I think gets it? I'll go power-play goal, first period, Jason Demers.
We'll get our first look at San Jose on Saturday and it's a scheduling break for the Condors. The Barracuda played Wednesday in Ontario, today in Henderson, and then travel here for Saturday's game. Have to take advantage when you get a team on a the third game in a third city on a fourth night. After Saturday, only Coachella Valley remains to be seen from the division and that game comes December 10.
Lastly, I'll leave you with how every Thanksgiving should end: butterfinger pie.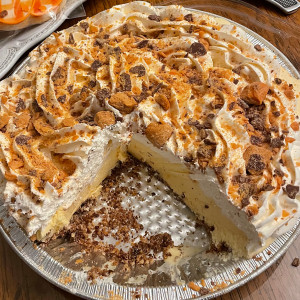 Until next time Condorstown…
Ryan Holt aka Holty is the Voice of the Condors in his 12th season. He's not sure if he has a coat warm enough for the 15 degree high and snow in Edmonton on Monday. Follow him on Twitter @CondorsHolty for more nonsense or shoot him an e-mail to rholt@bakersfieldcondors.com.