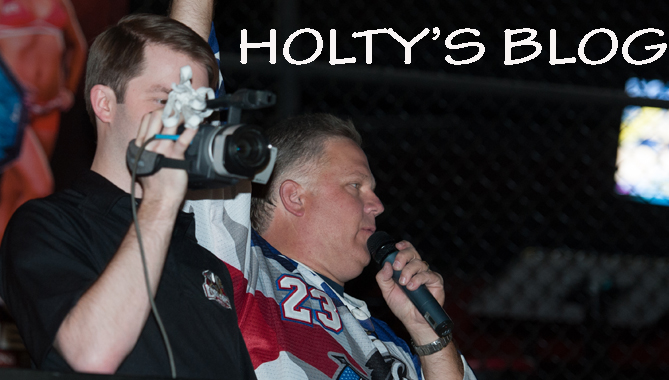 HOLTY'S BLOG: Random Thoughts
Anyone who knows me knows at least two things.
1) I talk a lot.
2) I tend to jump from subject to subject without much natural transition
With that in mind, I present to you, the most random collection of thoughts on my mind. If it reads like I'm writing this on my couch, watching the US Open, on a Thursday when the office is closed, you're right.
They're not lettered in any particular order. Again, I'll remind you, it's my blog, and I'll do what I want…Now for the blog:
A) The ECHL League Sales & Marketing Meetings are next Wed – Fri in Las Vegas. The Board of Governors meet on Mon. & Tues. where they'll talk about playoffs among other things. We'll try and make ourselves better by meeting with some NHL & AHL counterparts. My roommate is Kevin Bartl. The best part of "The Meetings" is the awards. We get to vote for two awards. I voted Cincy's Nick Brunker for Broadcaster of the Year & good friend of the blog @WillHoenike for PR Director of the Year.
B) The Netherlands will win the World Cup.
C) The Bakersfield Blaze won the first-half of the California League North Division. That means they'll be in the playoffs no matter what happens in the second half. The players celebrated with champagne in the clubhouse. Nothing against the Blaze, but it's systematic in baseball that you celebrate in the clubhouse every time you do any little thing. That's dumb. You don't see that in hockey and rightfully so.
D) There is a lot of chatter, even from AHL President David Andrews (click here), about a "possible" AHL West in 2015-16 involving at least 5 teams and maybe more. I have no opinion on the matter.
E) I made eggs, bacon, and waffles for breakfast. It's the Holty Special. Over easy, of course.
F) 1,770 miles NNE, the Edmonton Oilers hired Craig Ramsey as an assistant coach. He was formerly on the Bruins staff, so this is a move I can get behind!
G) There will be a Game 7 in the Stanley Cup Final.
H) Troy will attend coaches clinics held at the NHL Draft in Philly in two weeks. Philly and Chicago are two cities I've yet to spend time in. They're on my bucket list.
I) I'm nine days away from three weeks' worth of Dunkies' iced coffees.
J) We probably won't announce any player signings for a little while. Another even less meaningful list gets announced on Monday. Just a heads up.
K) Father's Day is Sunday. Make sure your dad gets the big piece of chicken. Yes, that's a Chris Rock reference and no I'm not linking to it, because it's NSFW. Look it up.
I figure K is a good letter to stop on. Until next time #Condorstown…
Ryan Holt, a.k.a. Holty, just finished his third season as Voice of the Condors. He just stocked up on SPF 30 for the summer. Follow him on Twitter @BroadcastHolt or shoot him an e-mail rholt@bakersfieldcondors.com
https://www.bakersfieldcondors.com/wp-content/uploads/2014/06/HB612.jpg
380
669
condors
https://www.bakersfieldcondors.com/wp-content/uploads/2023/06/BAK-Website-Header_2324.png
condors
2014-06-12 09:44:02
2014-06-12 09:44:02
HOLTY'S BLOG: Random Thoughts