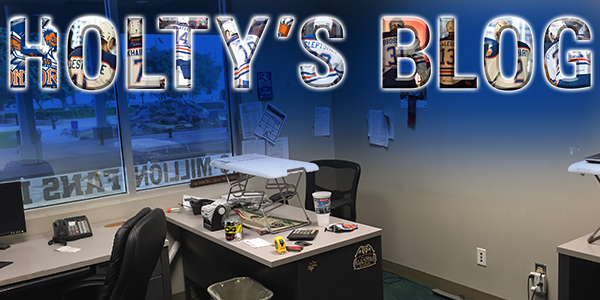 HOLTY'S BLOG: Under Construction
This blog comes to you for the final time from "the office with a window." You may think this has no significance, but it does. When I arrived in Condorstown, the "communications" office was the back office. I think they put us back there to not hear us, but regardless, it did not have a window and no natural sunlight.
Then, about three years ago, as people departed, the "office with a window" opened up and it has been our home ever since. It has served us well and even though the back office, through a knocking down of walls, currently has windows, we have remained.
That all changes today. This is the construction blog and as I'll remind you, it's my blog, and I'll do what I want.
Now for the blog…
The office renovations begin today. All of the old furniture is being donated to Goodwill today. Painters, flooring specialists (a.k.a. the carpet people), and interior designers (a.k.a. the people moving the new furniture in) will arrive over the course of the next five days. When we return next Thursday, everything will look modern, clean, and most of all, DIFFERENT.
So where are you headed Holty? The comm. office is moving to "the fishbowl" which is the first office you see when you walk in. Sales are going to the "old back office" and the people who were in the fishbowl are headed to the artist formerly known as the "conference room." Our current office will turn into our new meeting/conference room.
You must have found some great stuff. We did. @PrezRiles office was a museum. I thought I knew or had seen every specialty jersey we did, but apparently we wore Bakersfield Kernels jerseys early in our existence and there were pictures in an old program.
So what was on your iPod? A ton of rap and no country. The thing hadn't been updated since '06. I would say I'm probably 60% country music now. @KevinBartl disapproves.
You going to have any team news in this blog? Yes. The Condors signed two-year AHL d-man Frankie Simonelli this week. Bolsters the d-corps and he's a right shot, which the Condors had none on the blue line.
No Bogdan Yakimov? He was loaned to the KHL by the Oilers yesterday so it does not appear as if "Big Bo" will be coming back for his final year of his contract.
Will there be more signings? Certainly. Would expect a few more by the end of the month.
Specialty jerseys this year? Yes. We may even have FOUR specialty jerseys this year. #HoltyTeaser. There were some good ideas at a recent meeting. We laughed. We yelled. And hopefully will come up with stuff that will raise a lot of money.
What's up with your political tweets lately? This will be surprising to a few of you, but I was a political science major and did NOTHING related to communications in college. At one point, I was going to become a lawyer. Like politics or not, care about who the president is or not, just watch. Sit there and listen. And vote.
I lost a lot of money with your British Open pick… Sorry. Full disclaimer, I'm actually not a good gambler. I mean, who is? Anyways, if you're still riding the roller coaster, take Rickie Fowler at 40-1 to win the PGA in Jersey. Again, if you win because of reading the blog, please e-mail me so I can include you in my revenue-generated from the blog report.
Another bet? The Sox will take at least three of four from good friend of the blog @WillHoenike and the Seattle Mariners Monday – Thursday next week.
Until next time Condorstown…
Ryan Holt a.k.a. Holty enters his sixth season in Condorstown in 2016-17. He will golf often during his week out of the office. Follow him on Twitter @CondorsHolty for nonsense or shoot him an e-mail rholt@bakersfieldcondors.com with questions, comments, or blog ideas.  
https://www.bakersfieldcondors.com/wp-content/uploads/2016/07/HB_Small_728.jpg
300
600
condors
https://www.bakersfieldcondors.com/wp-content/uploads/2023/06/BAK-Website-Header_2324.png
condors
2016-07-28 08:55:03
2016-07-28 08:58:50
HOLTY'S BLOG: Under Construction