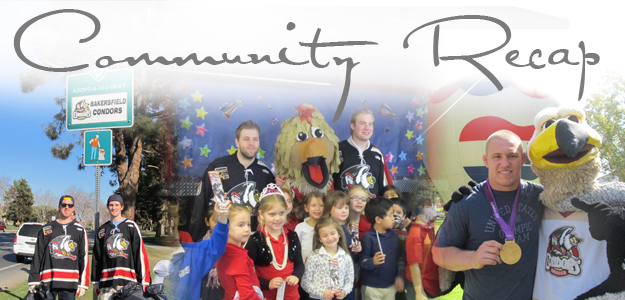 Season In Review III – Condors surpass $4.6M in fundraising history
Since 1998, the Bakersfield Condors have made community giving a priority and the 2012-13 season was no exception. Every year, the Condors look for more ways to be involved in helping children, supporting non-profits, encouraging education and generally being good stewards of the community. This past season, the Condors were able to raise or donate $364,034 in cash or goods to community organizations for an all-time total of $4.68 million.
SPECIAL EVENTS:
Each year, the Condors host a trifecta of charitable events beginning with the Condors Charity Golf Classic. This season, the players joined participants for a beautiful day of golf at Bakersfield Country Club and raised $5,071 for Kern Bridges Youth Homes.
In March, the players tried their hands at waiting tables during the annual Tip-A-Condor event, this season held at Firehouse.  The evening included dance-offs, kids got to play air hockey with their favorite players, a live and silent auction as well as great food!  In total, $8,033 was raised benefiting the Kern County Shrine Club. See the highlights by clicking here.
The Condors once again joined forces with local breast cancer resource center, Links for Life, to host the 9th Annual
Fighting Cancer Hockey-Thon March 23 & 24.  The 24-hour ice hockey marathon featured dozens of participants who played throughout the night at the Ice Sports Center followed by a special Condors Alumni game and the Bakersfield Condors home game at Rabobank Arena.  Special pink "B" jerseys were auctioned off and a total $18,500 was made to help local women and families who are fighting breast cancer. In nine years, the event has raised $324,000.
JERSEY AUCTIONS:
The Condors held 4 specialty Jersey Off Our Back auctions this season raising a total of $50,100 for the United Way, League of Dreams, Petroleum Shrine Club and the Active 20/30 Club.
TEDDY BEAR TOSS:
One of the most anticipated games of the season comes the Saturday after Thanksgiving when fans pack the arena ready to launch stuffed animals onto the ice in the annual Teddy Bear Toss.  This
season, 7,639 bears were collected bringing the all-time total to 80,750.  The plush toys are donated to the United Way who in turn distributes them to 60+ local organizations that serve children.
DONATIONS, FUNDRAISERS & APPEARANCES:
In addition to financial support, the Bakersfield Condors hold special collections for various community organizations. During the 2012-13 Season, the Condors collected:
3,744 lbs of canned food for local food banks
262 toys for the Kern County Marines Toys for Tots
200 books distributed through Wells Fargo to local schools
The Condors also routinely donate tickets and merchandise to non-profit events in the area. This season, more than 200 organizations benefited from the Condors generosity and approximately $30,000 worth of tickets and merchandise were donated for charity events and auctions.  In addition, the Condors helped several of these non-profits generate more funds with ticket fundraising and brought in approximately $50,000 in cash for a multitude of causes.
Although difficult to measure, the Condors strive to make a personal impact on the community with appearances to schools, hospitals and community events.  Players, staff and mascots contribute many hours to make more than 200 appearances per year.
EDUCATIONAL TICKET PROGRAMS:
The Condors place a high value on education and in rewarding children for school performance, attendance and behavior. This season the team continued with their ticket based educational programs and donated:
More than 4,000 tickets to the Turn Hockey Into New Knowledge (THINK) and Classroom Champions programs.
5,000 ticket vouchers to the Kern County Library Summer Reading program.
2,100 tickets to the Big Buddies program to allow underprivileged youth to attend.
The Condors also partnered with La Campesina radio and Brighthouse networks for the Classroom of the Month awards, giving each winning class 50 tickets to an upcoming game. In addition, the Condors stay active in area schools by participating in Celebrity Reading Days, special assemblies, classroom visits, jog-a-thons and a variety of other activities.
Many students also took part in the Condors new "B" Better Bakersfield program rewarding students for good grades. Students who presented a report card showing a GPA of "B" (3.0) or better received half price tickets to select games.
EFFORTS TO SUPPORT CHRIS KUSHNERIUK:
This year, the Condors added a special cause to their growing list of beneficiaries – helping the young former Condor, Chris Kushneriuk, in his fight against testicular cancer. After being diagnosed early last summer, Chris has spent this entire season undergoing aggressive treatment and surgeries. He has just recently been declared cancer-free and now can focus on recovery and repaying the staggering medical costs he incurred.  Throughout the season, the Condors held special sales, raffles and auctions to benefit Chris, totaling nearly $11,000.
IN-GAME PROGRAMS:
At the start of the season, the Condors decided to go even further in their efforts to support the community and launched two new in-game programs. 'Veteran of the Night' spotlight is a partnership with Wounded Heroes Fund to recognize a veteran at every home game by providing tickets and sharing their story on the video board.
The second program, "Spirit of Condorstown", recognized
individuals who have made an impact in Bakersfield.  Recipients included a 4th grade student who saved a classmate from choking, the local youth baseball group who won the Cal Ripken Little League World Series, and a 12 year old boy with terminal brain cancer whose birthday wish was toys for other kids in the hospital.
The Condors commitment to Bakersfield goes far behind providing professional sports entertainment. For 15 years, passion to giving back has been a driving force of the organization.
GET TICKETS!!
Season ticket packages for the 16th season of Condors hockey are on sale now, and renewals are still continuing for the 2013-14 season. Ticket packages are on sale now, with plans for a family of four starting at just $20 per month. Call 324-PUCK (7825) for more information.
Best ways to use your season tickets, #17: Reward staff for an accident free work environment. 

https://www.bakersfieldcondors.com/wp-content/uploads/2013/04/2013-04-19_communityrecap.jpg
300
625
condors
https://www.bakersfieldcondors.com/wp-content/uploads/2023/06/BAK-Website-Header_2324.png
condors
2013-04-23 14:09:06
2013-04-23 14:28:37
Season In Review III – Condors surpass $4.6M in fundraising history