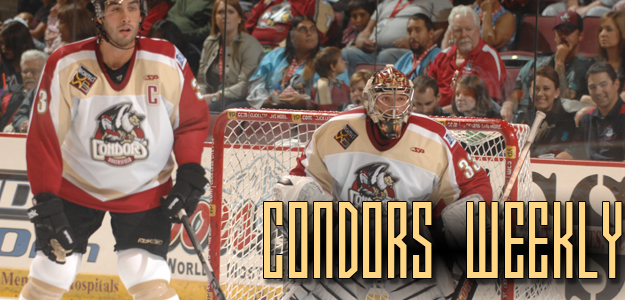 Condors Weekly: Four-game week on deck
BAKERSFIELD, Calif. – The Bakersfield Condors took a three-game trip to Alaska last week, picking up one win and slipping three points behind the Pacific Division leading Las Vegas Wranglers. The Condors are now 4-5-1-0 (9 points).
THIS WEEK (ALL TIMES PACIFIC):
Tuesday, Nov. 8 at Ontario (7 p.m.)
Thursday, Nov. 10 vs. Idaho (7 p.m.)
Friday, Nov. 11 vs. Idaho (7 p.m.)
Saturday, Nov. 12 vs. Idaho (7 p.m.)
WEEK IN REVIEW (Home team in CAPS):
Wednesday, Nov. 2
Condors 4 vs. ACES 0
After a scoreless first period, which saw G Matt Keetley make 17 saves, the Condors tallied twice in the second and twice in the third to take a rare shutout victory on the road in Alaska. C Mathew Sisca, LW Jesse Gimblett, RW Scott Freeman and LW Matt Marquardt tallied the goals for the Condors, and Keetley made 42 saves for his eighth career shutout.
Friday, Nov. 4
ACES 3 vs. Condors 1
The Aces bounced back for a 3-1 win over the Condors on Friday night. F/D Michael Gergen denied Aces G Gerald Coleman the
shutout by scoring near the midway point of the third to make it 2-1, but F Garry Nunn iced the game by giving the home team an insurance tally.
Saturday, Nov. 5
ACES 4 vs. Condors 2
The Condors battled back from 1-0 and 2-1 deficits, only to surrender a pair of goals in the last 11 minutes of play and fall 4-2 in the rubber match of the three-game series in Anchorage. C Mathew Sisca and LW Matt Marquardt scored for the Condors, while G Bryan Pitton suffered the loss between the pipes.
PLAYER AND TEAM NOTES:
G Matt Keetley's 42 save shutout Wednesday matched the second-highest number of saves in a shutout for the Condors.
The Condors shutout Alaska last week for the first time since March, 2004.
Only Florida (9 games) has played more games on the road so far this season than the Condors, who are 2-4-1 in seven contests away from Bakersfield.
RW Scott Freeman is second in the ECHL in scoring with 15 points (7g, 8a)
C Mathew Sisca has a goal in four of the last five games.
A member of the line of LW Jesse Gimblett-C Mathew Sisca-RW Scott Freeman has had a hand (either a goal or an assist) on 19 of the team's 28 goals this season (68%). All three players are in the top 15 in league scoring.
The Condors have been shorthanded more times than any other team in the league.
QUOTE OF THE WEEK:
"People think a certain attitude comes with the mutton chops. But those who know me know I'm a pretty easy goin', nice guy." – Condors D/F Michael Gergen, referring to the facial growth that he is sporting as a part of Movember. The whole team is participating to raise cash.
UPCOMING SCHEDULE: (subject to change.)
All practices are at Rabobank Arena unless otherwise indicated
Tuesday, Nov. 8 – 10 a.m. practice
7 p.m. game at Ontario
Wednesday, Nov. 9 – 10 a.m. practice
Thursday, Nov. 10 – 10 a.m. practice
7 p.m. game vs. Idaho
Friday, Nov. 11 – 10 a.m. practice
7 p.m. game vs. Idaho
Saturday, Nov. 12 – 10 a.m. practice
7 p.m. game vs. Idaho
Sunday, Nov. 13 – OFF
Monday, Nov. 14 – 10 a.m. practice
ON THE DOCKET:
Bakersfield wraps up their four-game road swing with a 7 p.m. c
ontest in Ontario Tuesday night. Catch all the action on Fox Sports Radio 970 AM, www.foxsports970am.com, or on the iheartradio app on your smartphone.
The team returns to home ice for three games in three nights, Thursday, Friday and Saturday, all against the Idaho Steelheads. All three games start at 7 p.m. The doors open at 6 p.m. on Thursday, and at 5:30 p.m. on Friday and Saturday.
Project Warm Families Coat Collection – Thursday, Nov. 10
Clear out some space in the closets for your Halloween decorations by donating a new or slightly used coat for families in need when the Condors host the Idaho Steelheads on November 10th at 7 p.m. Fans who donate a coat will receive $1.00 terrace-level tickets to the game, presented by 98.5 The Fox and Goodwill Industries.
11/11/11 Night – Friday, Nov. 11
The Condors will celebrate 11/11/11 by giving one lucky fan $11,111.11 if the Condors score with 11:11 on the clock in either period Friday night, sponsored by Bright House Networks, 101.5 KGFM and Aviator Casino. In addition, 11 lucky families will win tickets to the upcoming Yo Gabba Gabba show coming to town later this month.
Jersey Off Our Backs (9/11-SEAL Team 6 Tribute Jerseys) – Saturday, Nov. 12
The Condors will honor the 9/11 memorial and Navy SEAL Team 6 with a special Veteran's Day edition of the Jersey Off Our Backs raffle and auction. Five of the jerseys will be given away to fans in attendance that night, and the rest will be auctioned off benefiting the Wounded Heroes Fund. The jerseys are sponsored by ABC23, 107.9
KUZZ and American Business Machines.
CONDORS LEAGUE LEADERS:
Team – 86.9% penalty kill (2nd)
RW Scott Freeman – 15 points (t-2nd)(1st among rookies)
RW Scott Freeman – 7 goals (t-3rd)(t-1st among rookies)
RW Scott Freeman – 3 game-winning goals (t-1st)
RW Scott Freeman – 8 assists (2nd among rookies)
LW Jesse Gimblett – 12 points (t-9th)
C Mathew Sisca – 10 points (3rd among Rookies)
G Matt Keetley – 2.22 goals against average (10th)
G Matt Keetley – .935 save pct. (t-6th)
CONDORS LEADERS:
Points: RW Scott Freeman, 15
Goals: RW Scott Freeman, 8
Assists: RW Scott Freeman/LW Jesse Gimblett, 8
PIM: LW Hans Benson, 24
+/-: C Mathew Sisca/RW Scott Freeman, +4
GAA: G Matt Keetley, 2.22
Save %: G Matt Keetley, .935
Wins: G Matt Keetley, 3
GET TICKETS:
Ticket packages, starting as low as $48, are on sale now by calling the Condors front office. Special group rates are available for just a minimum of 10 people (advanced purchase required). Reserve your group or party today by calling 324-PUCK (7825).
Individual tickets are on sale now through Ticketmaster and the Rabobank Arena Box Office. Box Office hours are 10 a.m. – 6 p.m. Monday – Friday, and 10 a.m. – 4 p.m. on Saturday, with extended hours on game and event days. You can also call Ticketmaster at 1-800-745-3000 or visit them online at www.ticketmaster.com. Ticket packages start at just $48! Call the Condors office at 324-PUCK (7825) or go online to www.bakersfieldcondors.com for more information.
https://www.bakersfieldcondors.com/wp-content/uploads/2011/11/2011-11-07-Weekly.jpg
300
625
condors
https://www.bakersfieldcondors.com/wp-content/uploads/2023/06/BAK-Website-Header_2324.png
condors
2011-11-07 16:57:37
2011-11-07 16:57:37
Condors Weekly: Four-game week on deck