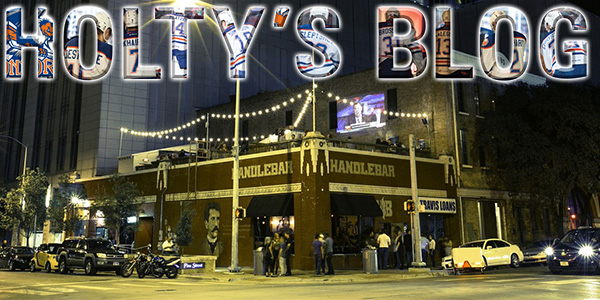 HOLTY'S BLOG: Best New Spots
Those who have been with #HoltysBlog for years know that the origins of the blog used to be rankings. I ranked everything. Best press meals, best arenas, best broadcasters, best road trips … you get the picture.
It's Thursday. So it can be a Throwback Thursday as the kids say.
You may have just been getting used to the random points ripping off Friedman's blog, but as I'll remind you, it's my blog and I'll do what I want.
Now for the blog…
We (the Condors) visited seven new locations this year: San Jose, San Diego, San Antonio, Austin, Milwaukee, Grand Rapids, and Winnipeg. We'll add Tucson and potentially one more to the list this upcoming season. Yes, that's a #HoltySpoiler.
Nobody likes traveling more than me. Except for when we have to get on a bus and go four hours up the 99, I enjoy just about every road trip. So, in homage of the early days of the blog, here are the top 7 places to eat/visit while in those seven new cities. Yes, they're in order. And yes, the answer to your "does everything he writes revolve around food?" question is yes.
Biggest suggestion when on the road is to not visit chains. Nothing against chain restaurants and such, but get out and explore something "local."
#7 – Elephant & Castle, Winnipeg – Hey you said no chains! Winnipeg is an exception. It's cold and I didn't want to venture too far. Food is great. I got the bangers & mash. And much like everything else in the Peg, I took all of the change out of my pocket and said "is this enough?"
#6 – Schilo's Deli, San Antonio – This will be the most unpopular "hot take" in the whole blog: I'm not a huge San Antonio fan. Everything is below street level around a fake river. It feels forced. I love Tex-Mex though and there's plenty of it, but naturally I pick a German spot. It's off the Riverwalk and thanks to @KevinBartl, I have an appreciation for Weinerschnitzel. Really cool, really old, and they make their own root beer.
#5 – Grand Central Market, Grand Rapids – I wish we had more time in GR than just a day. I really do. So, this is the pre-game spot. Great old school, dine-in market. I got the Italian. It came pressed, which I'm normally not a fan of, but this one worked just fine.
#4 – Straits, Santana Row, San Jose – One of my favorite meals on the road, because everything came family style. When you have 4-5 staff members, that's a good deal. The Straits-style beef is highly recommended and the crispy calamari was a good appetizer. POST-MEAL: Roots & Rye was a great spot for an after-hours drink. Nice atmosphere and had outdoor seating, which as you will see, is the best part about a place.
#3 – Brat House, Milwaukee – I loved Milwaukee. I probably would have been less thrilled if the trip was in January, but nonetheless, I would be 400 lbs. if I lived there. Everything is fried. Everything has cheese. Even the cheese is fried. The cheese curds, Jumbo Bavarian pretzel which came in a pizza box, and Italian sausage with extra spices was perfect.
#2 – Everywhere, San Diego – Where to begin? Water Grill was great. The scallops were delicious. But, it's pricey. Rustic Root was brand new and the RR burger with the fried egg was messy, but well worth it. Also, they have a great rooftop with a separate, smaller menu up there. San Diego also had the best press meal – Dino's Gyros Greek Café. Other than breakfast in San Jose, there really wasn't a close second. Gyros, kabobs, hummus and pita… you get the drift.
#1 – HandleBar, Austin – one of our favorite off-night spots. Has a rooftop patio with huge TV's for those sensing a theme here. Beer came in cans, which is great. Plus, they had jumbo-sized Jenga and cornhole. Cool spot. Oh, you wanted food? The Park at the Domain is great. Again, outdoor patio with plenty of TV's. The beef mini street tacos were fantastic with the avocado sauce.
Until next time Condorstown…
Ryan Holt a.k.a. "Holty" enters his sixth season with the Condors in 2016-17. He hasn't bought in to this whole health food craze. Follow him on Twitter @CondorsHolty for more nonsense or shoot him an e-mail to rholt@bakersfieldcondors.com with blog suggestions, ideas, and questions. 
https://www.bakersfieldcondors.com/wp-content/uploads/2016/06/HB_69.jpg
300
600
condors
https://www.bakersfieldcondors.com/wp-content/uploads/2023/06/BAK-Website-Header_2324.png
condors
2016-06-09 11:37:47
2016-06-09 11:38:59
HOLTY'S BLOG: Best New Spots