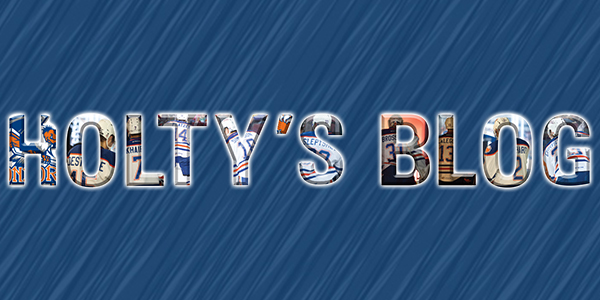 I had all the intentions of a Thursday on location blog from Des Moines, but sometimes things don't go as planned. So let's call this a Draft Day Friday blog.
You may only read Thursday blogs, and that's fine, but as I'll remind you, it's my blog and I'll do what I want.
Now for the blog.
– We start with the food. We had a return trip to Fong's Pizza on Tuesday night. Below are Crab Rangoon, Mac N Cheese, and Taco pizzas. There was also some Honey Garlic Chicken one too, but that was at the other end of the table and never made its way down to your favorite blogger.
Thanks to all for playing. Mac N Cheese, Crab Rangoon, and Taco were the selections. #AHLMeetings pic.twitter.com/3ryHmK1va1

— Ryan Holt (@CondorsHolty) June 20, 2018
– The AHL Meetings feature mostly all of the teams. Got to see some old friends and now colleagues from Colorado as well too as they prepare to enter the league in October. On the business side, we often get so bogged down in what we're doing that we don't see what others do throughout the year.
AHL teams from around the league have gathered in Des Moines for the 2018 AHL Team Business Meetings.

Details: https://t.co/QVAGzhWV7l pic.twitter.com/3JGBAzam8X

— AHL (@TheAHL) June 19, 2018
– They're also an opportunity to hear from leaders outside of the league as well and we did that with representatives from the Minnesota Wild and the NBA G League. For the latter, they face many of the same challenges with respect to their business. Always good to have fresh ideas.
– Congrats to our group sales team, led by Greg Lowe, who took home an award for group sales as well. Some of the sales staff is pictured in the tweet below with AHL President David Andrews and Chris Spano who heads up Team Business Services.
Condors staff coming home with a league award for group sales. Thanks to @TheAHL & #Condorstown! pic.twitter.com/z7SfHbFl01

— Bakersfield Condors (@Condors) June 20, 2018
– Shifting gears, the first round of the NHL Draft is tonight at 4:30 p.m. on NBCSN. Edmonton picks 10th tonight and has plenty of picks on Day 2 tomorrow. While drafted players this weekend are likely to have 0 impact on the Condors this season, it's definitely worth paying attention to for 2-3 seasons from now. Click here for the Oilers draft hub.
Here we go! #NHLDraft begins tonight in Dallas! Get ready for the festivities by visiting https://t.co/OXQ6n8xoPm for coverage presented by @SportChek. pic.twitter.com/mmHjk3At7W

— Edmonton Oilers (@EdmontonOilers) June 22, 2018
– Sometimes, players drafted by other teams end up in Bakersfield. Case in point is the below tweet with Brad Malone, Ty Rattie, and Keegan Lowe all coming from other organizations.
#TBT with the #NHLDraft tomorrow. pic.twitter.com/sRCM1l5KB8

— Bakersfield Condors (@Condors) June 21, 2018
– Edmonton also made news yesterday with the buyout of Eric Gryba's contract. That means he will be an unrestricted free agent this offseason and free to go elsewhere. As of now, Ryan Stanton would be the only veteran d-man from last year's Condors still in the system. Again, the best spot for all of this movement is the offseason player tracker: click here.
The #Oilers have placed defenceman Eric Gryba on unconditional waivers for the purpose of buying out his contract. pic.twitter.com/A4QafIyMTW

— Edmonton Oilers (@EdmontonOilers) June 21, 2018
– The schedule should be out in the next couple weeks. Last year it was July 11, so I think that's a good barometer. We'll find out when my next trip to Iowa is among other things.
– Also a reminder that NHL Free Agency opens next weekend on Sunday, July 1. Very likely a few of the players signed that day will end up in Bakersfield, so it's important to keep an eye on it. Last season, players like Ty Rattie, Brad Malone, and Keegan Lowe were all picked up.
– There are still AHL Head Coaching vacancies in Tucson, Hershey, Milwaukee, Colorado, and Belleville. With the changes already announced around the league, there has been a lot of movement this offseason.
– For anyone on the fence about becoming a Condors365 Member, this is a good video.

– LOCK OF THE WEEK? I think we see some decent trades tonight at the NHL Draft. I'm not smart enough to know what team or who, but I think there will be wheeling and dealing tonight.
Until next time Condorstown…
Ryan Holt aka Holty is the voice of the Condors and enters his 8th season this Fall. He's still full from Des Moines. Follow him on Twitter @CondorsHolty or shoot him an e-mail to RHolt@BakersfieldCondors.com with questions, comments, or blog ideas. 
https://www.bakersfieldcondors.com/wp-content/uploads/2017/08/HB_Small-.jpg
300
600
condors
https://www.bakersfieldcondors.com/wp-content/uploads/2023/06/BAK-Website-Header_2324.png
condors
2018-06-22 10:51:47
2018-06-22 12:03:08
HOLTY'S BLOG: DRAFT DAY