HOLTY'S BLOG: FANTASTIC VOYAGE
Bet you didn't think you were starting your Thursday with a Holty's Blog tribute to Coolio, but hey, I felt it was appropriate given the time of the year we're in. Plus the blog is versatile. Just when you think you have it pegged, we keep you on your toes.
It's going to be a Fantastic Voyage over the next eight months and as I'll remind you, it's my blog and I'll do what I want.
1, 2, 3, 4…
Now for the blog…
The 200 x 85 sheet of one inch thick ice was installed over the weekend. It's an incredible process and was captured perfectly by video guru, and friend of the blog James White.
Players will start arriving this weekend, so you can expect some cuts coming from Oilers camp soon. The first team meeting will be on Sunday, players are on ice Monday, and at that point it's "come along and ride on a fantastic voyage"
Hinted at the first Meet the Team Mixer in a few years last week, and wouldn't you know, it was confirmed yesterday. Condors365 Members can enjoy a taco bar poolside at the Marriott while meeting the entire team and coaching staff on Wednesday, October 12 from 5:30 -7 p.m. If you're not a Member, now is as good a time as ever. Click here.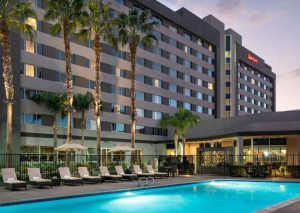 Also dropping this week was the team's promotional schedule for the season. You can check it out here. James Hamblin and Seth Griffith are the two youth jersey giveaways this season and the Vinny Desharnais $5 Frenzy Bobblehead night is in the works! Excited for the St. Patty's Day jerseys. Single game tickets go on sale Friday!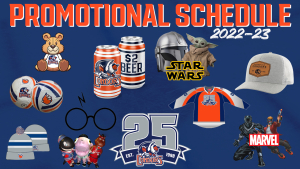 If you haven't seen all the hype surrounding Opening Night yet, the Condors Opening Night commercial starts this weekend. Cameron Hughes will be in the house and we will honor Paul Willett as the first of many alumni honorees this season. Seemed fitting to have the team's all-time leading scorer lead us off on the 25th Anniversary Campaign.

Holty is the 25th Anniversary Program done? Almost! Just like the media guide, which will be completed before opening night, I think. Here's the cover of the program though which has really cool content inside and will be complimentary for members and on sale for folks at games this season. Cool collector's item.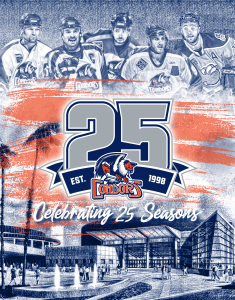 Until next time Condorstown…
Ryan Holt aka Holty is the Voice of the Condors in his 12th season. Follow him on Twitter @CondorsHolty for more nonsense or shoot him an e-mail to RHolt@bakersfieldcondors.com with questions, comments, or blog ideas.