In my last blog on March 16, 2020 I finished the entry with "10:30 p.m. – Bus arrives home in Condorstown. The team disperses, not quite sure what happens next."
Over nine months later, I'm still not sure what happens next. That team dispersed and was never heard from again. And as much as has happened over the past nine months, time has felt like it has stood still. Yet, here we are, three weeks away from what is sure to be the strangest Opening Night in Condors history.
We'll look back. We'll look forward. There will probably be typos. I have been out of practice for a bit.
Shoutout Grapevine MSP the new sponsor of the blog. As I'll remind you, it's my blog, and I'll do what I want, but even the blog needs support! Maybe we'll make t-shirts and merchandise with "Friends of Holty" and some logos.
Now for the blog…
– Where to begin? We're dropping a puck on Friday, Feb. 5 and going to play 40 games. Schedule should be out in the near future. That much we know. Credit to all of the teams, AHL personnel, and more for even getting us to this point. It will look and feel different, but at the end of the day, it's still the same game.
28 teams will be participating in @TheAHL's 2020-21 season, which opens Feb. 5

Details: https://t.co/cTZlyOTMK9 pic.twitter.com/jiJ310QxuW

— AHL Communications (@AHLPR) January 4, 2021
– I was on the golf course with Brad Malone and Luke Esposito, who have been training in Bakersfield for the better part of the past six months, when the news broke that the season was returning. Their sentiment echoed around most who work, live, eat, and breathe the game: relief.
Can I finish my 18 first? https://t.co/Rgf0lJpWro pic.twitter.com/JalVC0dDix

— Ryan Holt (@CondorsHolty) January 4, 2021
– Speaking of Bugsy, he chatted with Mike Hart and 23ABC earlier in the week…

– Did a lot of reflection over the last nine months. I mean, I had a lot of time on my hands. I thought back to last year's team and how Condorstown never got to give Josh Currie a proper sendoff. He was Mr. Everything for the organization for the past six seasons and signed with Pittsburgh in the offseason. He's one of the greatest to ever put on a Bakersfield sweater.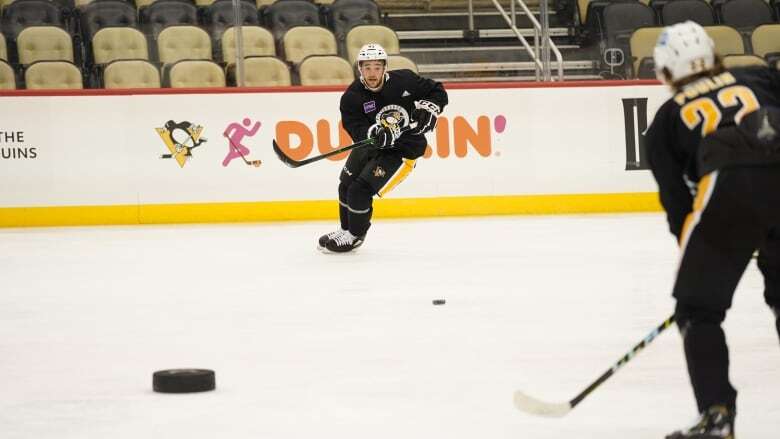 – The other reflection came from the tragic loss of our friend/teammate/brother Colby Cave. The organization has not been whole since his passing in April and did a lot of thinking about how best to honor his legacy. The team will wear special helmet decals and there will be remembrances throughout the year (s) to help others through his Memorial Fund, but I think the truest way of honoring him is to live life the way he did. Enjoy it. Enjoy every day and put your heart and soul into everything you do. And to make everyone feel like they are the most important person in the room, because he had a way of making you feel that way every time he saw you.
– And then we move forward. The rink has started to be reassembled at Mechanics Bank Arena. Ice goes in early next week.
Big pieces of the puzzle. pic.twitter.com/i6MbvoGET9

— Bakersfield Condors (@Condors) January 13, 2021
– The Edmonton Oilers got underway last night and it was the familiar name of Kailer Yamamoto who scored the team's first goal. In total there are 13 Condors alums on the Oilers roster with eight playing last night.
YAMO @kailer_yamamoto | #LetsGoOilers pic.twitter.com/rLLCjFRxgv

— Edmonton Oilers (@EdmontonOilers) January 14, 2021
– What will the Condors roster look like? In addition to the likes of Malone, Esposito, and Joe Gambardella returning up front, the welcoming of Seth Griffith and Adam Cracknell will provide proven veteran leadership and scoring. Defensively, old friend Ryan Stanton returns to anchor a blue line which will have many new faces. Goaltending remains in flux as Anton Forsberg was claimed off waivers earlier this week, putting Stuart Skinner on the Oilers' taxi squad and Dylan Wells as the only NHL contracted goalie with the Condors. We will see how all of that shakes out in the coming weeks.

– Holty, what's a taxi squad? New this year to the NHL, the taxi squad consists of at least four, but no more than six players (one has to be a goalie). With COVID protocols and the potential for unavailable players, this gives NHL teams a little more flexibility. Taxi squad rules are the same as the AHL. If a player needs waivers to go to the AHL, he needs waivers to go to the taxi squad. It will limit the amount of players sent to the AHL, but also gives more players an opportunity across the league.
– Broadcast wise – all games remain on Fox Sports 970 and the iHeartMedia App. AHLTV pricing came out today and that is your best way certainly to catch the action, at least to start the season. We'll do our best to provide as much content and insight that we can, given the circumstances and limitations.
Get as close to the action as possible for just $34.99.

Sign up for #AHLTV here https://t.co/EDJeTWs8G5 pic.twitter.com/tZppmfdYik

— Bakersfield Condors (@Condors) January 14, 2021
– On a personal note, figured we'd end the blog with baby pictures. Brendan Michael Holt was born on August 24, 2020 and thankfully looks like his mother.
Until next time Condorstown…
Ryan Holt, aka Holty, enters his 10th season as Voice of the Condors in 2021. He's still getting used to this whole "dad" thing, but has definitely improved his diaper changing skills. Follow him on Twitter @CondorsHolty or shoot him questions/comments to rholt@bakersfieldcondors.com