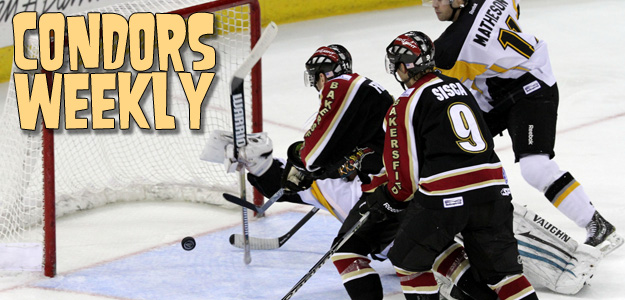 Winless streak ends; road trip continues
BAKERSFIELD, Calif. – The Bakersfield Condors snapped their 12-game winless skid with a 5-2 win Sunday in Stockton, capping a wild weekend series against the rival Stockton Thunder. The Condors own a 6-16-3-0 record, with 15 points in the standings.
THIS WEEK (ALL TIMES PACIFIC):
Wednesday, Dec. 14 @ Ontario (7 p.m.)
Friday, Dec. 16 @ Las Vegas (7:05 p.m.)
Saturday, Dec. 17 @ Las Vegas (7:05 p.m.)
WEEK IN REVIEW (Home team in CAPS):
Friday, Dec. 9
Stockton 3 vs. CONDORS 1
Attn: 4,151
The Condors opened the scoring with a power play goal from C Robby Dee (right) early in the second period, but Stockton bounced back with three unanswered tallies to take away a 3-1 victory. G Matt
Keetley made 35 saves in the losing effort for Bakersfield, in the opening game of a three-game series.
Saturday, Dec. 10
STOCKTON 9 vs. Condors 6
The two teams combined for a Condors record 15 goals, including nine goals in the middle frame, but Bakersfield found themselves on the wrong side of the scoresheet in a 9-6 barn-burner in Stockton. RW Scott Freeman scored twice and C Mathew Sisca had a four-point night for the Condors, who also scored three shorthanded goals in the game. A melee at the end of the contest led to 146 combined penalty minutes being assessed on the night.
Saturday, Dec. 11
Condors 5 vs. STOCKTON 2
Five different players lit the lamp for Bakersfield, including C Robby Dee for the third straight game and rookie F Parker Stanfield (the first of his pro career), en route to the win.  RW Peter Boyd, LW Matt Marquardt and F Ian McKenzie also scored for Bakersfield and G Matt Keetley picked up the win in net.
PLAYER AND TEAM NOTES:
The Condors scored three times shorthanded on Saturday night, and lead the league with eight shorthanded goals as a team.
The line of LW Jesse Gimblett (pictured) – C Mathew Sisca – RW Scott Freeman combined for 10 points on Saturday. Sisca led the way with four points (1g-3a) while Freeman (2g-1a) and Gimblett (1g-2a) each had three.
C Robby Dee has a goal in three straight games, and had a three-point night Sunday (1g-2a).
RW Hans Benson was suspended on Sunday, after being assessed an instigator penalty on a fight in the final five minutes of Saturday's game.
The brawl that broke out in the final minute of Saturday's game led to 126 PIM being dished out from the 19:29 mark and later. Seven players were ejected from the contest.
The three rookies with the most shorthanded goals in the ECHL are all Condors, with Dee and Freeman tallying three and RW Peter Boyd scoring two. Dee had two "shorties" with Florida prior to his acquisition by the Condors.
Only the Condors and the Wheeling Nailers have yet to play in a shootout this season.
UPCOMING SCHEDULE: (subject to change.)
All practices are at Rabobank Arena unless otherwise indicated
Tuesday, Dec. 13 – 10 a.m. practice
Wednesday, Dec. 14 – 10 a.m. practice
7 p.m. game at Ontario
Friday, Dec. 16 – 7 p.m. game at Las Vegas
Saturday, Dec. 17 – 7 p.m. game at Las Vegas
Sunday, Dec. 18 – OFF
Monday, Dec. 19 – 10 a.m. practice
Road trip continues
The Condors carry on to Ontario (7 p.m.) on Wednesday and Las Vegas on Friday and Saturday (both at 7:05 p.m.) to wrap up their five game road trip this week. Listen live on Fox Sports Radio 970 AM, online at www.foxsports970AM.com or with the iHeart Radio app on your smartphone.
$1 Tickets coming up next week
The Condors return home on Wednesday, Dec. 21 to host the Colorado Eagles at 7 p.m. That night is High School/College ID Night, sponsored by My 45 and La Campesina 92.5. All high school and college students can purchase a lower level ticket for just one dollar by presenting their student ID at the box office.
CONDORS LEAGUE LEADERS:
Team – 8 shorthanded goals (1st)
RW Scott Freeman – 25 points (t-7th)(2nd among rookies)
RW Scott Freeman – 3 shorthanded goals (t-2nd)(t-1st among rookies)
RW Scott Freeman – 12 goals (2nd among rookies)
RW Scott Freeman – 3 game winning goals (t-1st among rookies)
C Mathew Sisca – 24 points (t-11th)(3rd among rookies)
C Mathew Sisca – 16 assists (1st among rookies)
C Robby Dee – 3 shorthanded goals (t-1st among rookies)
RW Peter Boyd – 2 shorthanded goals (3rd among rookies)
LW Hans Benson – 9 major penalties (t-3rd)
CONDORS LEADERS:
Points: RW Scott Freeman, 25
Goals: RW Scott Freeman, 12
Assists: C Mathew Sisca, 16
PIM: LW Jesse Gimblett, 83
+/-: C Mathew Sisca, +7
GAA: G Matt Keetley, 2.80
Save %: G Matt Keetley, .914
Wins: G Matt Keetley, 4
GET TICKETS:
Holiday 4-Pack Plans are a great gift for those that like to have fun and need the perfect stocking stuffer! Plans start at just $32. For more information or to reserve your tickets call 324-PUCK (7825) today.
Individual tickets are on sale through Ticketmaster and the Rabobank Arena box office by calling 1-800-745-3000. The box office is open from 10 a.m. to 6 p.m. Monday through Friday. And 10 a.m. to 4 p.m. on Saturday, with extended hours on game days. For more information on ticket packages, exciting promotions, and to sign up for the Kids Club for just $10, visit the online home of the Condors,  www.bakersfieldcondors.com.


Follow the Condors all season long, for team news, player moves, promotions, and more on Twitter (@Condors) and Facebook (facebook.com/BakersfieldCondors). Be the first to know!
https://www.bakersfieldcondors.com/wp-content/uploads/2011/12/2011-12-12-condors-weekly.jpg
300
625
condors
https://www.bakersfieldcondors.com/wp-content/uploads/2023/06/BAK-Website-Header_2324.png
condors
2011-12-12 15:22:44
2011-12-12 15:22:44
Winless streak ends; road trip continues