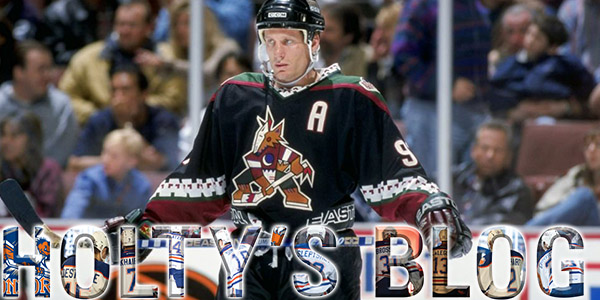 HOLTY'S BLOG: Welcome Tucson ________?
I have three gripes with fan behavior during hockey games. Actually, it's more "I don't understand why people do this." These were all in full display this week during the Stanley Cup Playoffs.
1) Yelling "shoot" during a power play. Andrew Ference had a great bit on this.
2) Boo'ing the ref for obvious calls just because it's against your team. Pittsburgh put the puck over the glass, not once, not twice, but three times in succession the other night and fans boo'd the ref as if he did something wrong. It's not a judgement call.
3) Banging on the glass. I will never understand this. Never. Not in celebratory fashion. Not in upset fashion. Not in any fashion.
You may enjoy doing these things during a game. But as I'll remind you, it's my blog and I'll do what I want.
Now for the blog…
Welcome to Tucson*! I put the asterisk because the AHL conditionally approved the sale of the franchise formerly known as Springfield to the Arizona Coyotes with plans to begin play in 2016-17 at the Tucson Convention Center. They still need to iron some things out, but for now, let's assume that we're heading to the Grand Canyon State next season.
They need a name. Fortunately, I know a guy who is great with team nicknames. He's even written about his favorites.
To me, there are rules when it comes to team names. It has to be plural (Thunder and Heat are still awful), the name needs to make sense for the geographical location (lots of Jazz in Utah), and alliteration need not apply.
So Tucson, let's name your team. There are five. It has to be #1, but I'll present the other options anyways. The President of the Coyotes, Anthony Leblanc, already hinted to the fact that the team would have a similar color scheme as the big club. I like it. They should go back to the Kachina jersey style of the 90's. Would still have black gloves and pants like the big club so it works well from the equipment angle.
5) Tucson Javelinas – check this thing out. You may think this is a Razorback, but you'd be wrong. That's a soft "J" by the way. Not the thing you throw in the Olympics.  They could even just inherit the old Iowa Chops logo.
4) Tucson Pups – OK this can't happen, but a baby Coyote is called a pup. Sorry for even bringing this up.
3) Arizona Bobcats – They'll be the only team in Arizona, so why not take the state name like the parent club? Can't call the team Wildcats, since there is already the University of Arizona in the same city. Bobcats would work and could have a cool logo.
2) Tucson Eagles – Bald eagles are everywhere in Arizona. Plus, more bird named teams in the Pacific Division doesn't hurt.
1) Tucson Gila Monsters – this has to be the name and I won't hear any arguments to the contrary. The Gila (HEE-lah) Monsters played in the WCHL for one-plus season. You could spruce up the old logo with the Kachina colors and voila, you have a team. Gila Monsters are venomous too, but they're slow moving, so you're safe.
Until next time Condorstown…
Ryan Holt a.k.a. "Holty" has spent five seasons in Condorstown and considers the biggest failure of his tenure to not have found investors for a Dunkin' Donuts. Follow him on Twitter @CondorsHolty or shoot him an e-mail to rholt@bakersfieldcondors.com with questions and blog ideas. 
https://www.bakersfieldcondors.com/wp-content/uploads/2016/05/HB_Roenick.jpg
300
600
condors
https://www.bakersfieldcondors.com/wp-content/uploads/2023/06/BAK-Website-Header_2324.png
condors
2016-05-12 10:24:40
2016-05-12 10:32:44
HOLTY'S BLOG: Welcome Tucson ________?